System/ Organizational Development: Overview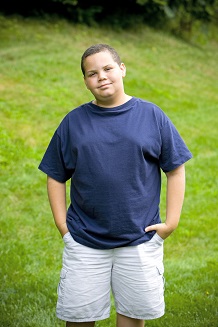 For more in-depth information on this aspect of implementation:
This section is designed to provide a basic overview of Wraparound implementation, and to introduce you to the types of information and resources that are offered in this "Implementation Support" section of the NWI website. The main questions addressed are:
1. What are the main things to plan for in Wraparound implementation?
Every community implements Wraparound differently, based on their own unique local conditions. However, each community also needs to accomplish a set of core implementation tasks in various areas, such as setting goals, funding the Wraparound effort, hiring and training staff, tracking outcomes, and so on. There are no rules about where a community or initiative must start in terms of building Wraparound infrastructure; however, research and experience tells us that it is critically important that a core set of supports gets put in place.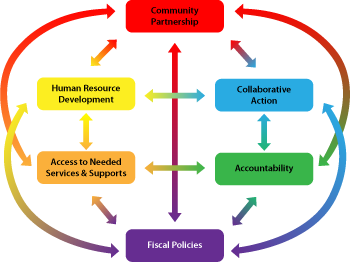 This "Implementation Support" resource is structured around six implementation areas or "themes" that have been identified in research using the Community Supports for Wraparound Inventory (CSWI). The six themes to which all communities or Wraparound initiatives must attend are: Community partnership, collaborative action, fiscal policies and sustainability, access to supports and services, human resource development and support, and accountability. Within each theme, there are a series of "necessary conditions" that communities typically need to have in place in order to support high quality Wraparound.
The sections of this online "Implementation Support" resource focus on the six themes. (There is an additional section focusing on state support for Wraparound implementation). In each section, there is a set of frequently asked questions that provide a kind of overview of important areas of work, key considerations, and pitfalls to avoid. Additionally, each section provides links to resources that provide a deeper level of detail on key topics within the theme.
Two articles in the Resource Guide to Wraparound provide a more detailed overview of implementation. They are:
Three additional articles in the Resource Guide provide information about the process of community development and system change that is typically necessary in order to create a hospitable climate for Wraparound. They are:
2. Where do we get started?
Developing community capacity to implement and support Wraparound is a developmental process, and work is typically ongoing in each of the six areas. Still, every community needs to get started somewhere. A good first step is to begin by reviewing what sort of groundwork your community or system has laid for Wraparound thus far, and to identify areas of greatest strength or capacity as well as the areas of greatest need. Take a few minutes and complete the following questions as you think about your overall community situation.
Consider your answers. Areas that with higher point totals would be considered as strengths you could build on. Areas with lower point totals will likely be challenges for you as you move ahead to implement your Wraparound project. You may choose to start by working on areas of strength because that may give you the most significant gain right away, or you may choose to start by focusing on the area of greatest challenge so that your Wraparound efforts can have a firm foundation across implementation areas.
There is no right order or single right way to address these themes, but some themes are more interrelated than others. For example, while community partnership and collaborative action are interrelated, they also represent some unique attributes and activities. The community partnership theme speaks to formal arrangements and relationships between community stakeholders while collaborative action references actions that grow out of the partnership. Community partnership is often necessary for creating the range of imaginative and family-centered responses that is identified in the access to needed services and supports theme. It could also be argued that a community or project won't have a wide range of responses available unless partners take collaborative action to develop coherent financing schemes as articulated in the fiscal policies and sustainability theme. Finally, all of the themes are not likely to make much difference unless a well-supported workforce is dedicated to the implementation of Wraparound in your community.
The point is that while the themes are significantly intertwined each community has to choose to start somewhere. After reviewing your answers, choose a theme and go to the appropriate section of this resource. This represents a starting place rather than an ending. Wraparound is often referred to an aspirational model. You are not likely to reach perfection in any of the themes outlined in this guide. Progress, however, can be made and is required to assure effective quality of implementation of Wraparound practice for each family you support.
3. What if we need more help?
Many times, Wraparound projects turn to consultants, trainers and technical assistance providers to provide the level of customized and intensive assistance that goes far deeper than even a comprehensive set of static implementation resources. We strongly encourage you to read the Resource Guide article on Choosing a Consultant to Support Your Wraparound Project before purchasing consultation, training, or technical assistance services.
The National Wraparound Implementation Center (NWIC) – in which the NWI is a partner – may also be able to help a local or state initiative directly. One way in which we can do this is to support the accountability function of Wraparound implementation. At a community or system level, the NWI has developed the Community Supports for Wraparound Inventory—which provides information on the level of development in the six themes of Wraparound support—and a procedure for supporting web-based data collection from local stakeholders. At a practice level, the Wraparound Evaluation and Research Team at the University of Washington disseminates several implementation fidelity measures. (You can go to depts.washington.edu/wrapeval to learn more.) We look forward to collaborating with you!