Wraparound Basics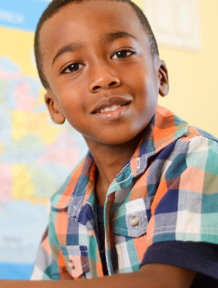 What is Wraparound?
Wraparound is an intensive, holistic method of engaging with individuals with complex needs (most typically children, youth, and their families) so that they can live in their homes and communities and realize their hopes and dreams.
Since the term was first coined in the 1980s, "Wraparound" has been defined in different ways. It has been described as a philosophy, an approach, and a service. In recent years, Wraparound has been most commonly conceived of as an intensive, individualized care planning and management process. Wraparound is not a treatment per se. The Wraparound process aims to achieve positive outcomes by providing a structured, creative and individualized team planning process that, compared to traditional treatment planning, results in plans that are more effective and more relevant to the child and family. Additionally, Wraparound plans are more holistic than traditional care plans in that they are designed to meet the identified needs of caregivers and siblings and to address a range of life areas. Through the team-based planning and implementation process – as well as availability of research-based interventions that can address priority needs of youth and caregivers &ndah; Wraparound also aims to develop the problem-solving skills, coping skills, and self-efficacy of the young people and family members. Finally, there is an emphasis on integrating the youth into the community and building the family's social support network.
The values of Wraparound, as expressed in its core principles, are fully consistent with the system of care framework. Wraparound's philosophy of care begins from the principle of "voice and choice," which stipulates that the perspectives of the family – including the child or youth – must be given primary importance during all phases and activities of Wraparound. The values associated with Wraparound further require that the planning process itself, as well as the services and supports provided, should be individualized, family driven, culturally competent, and community based. Additionally, the Wraparound process should increase the "natural support" available to a family by strengthening interpersonal relationships and utilizing other resources that are available in the family's network of social and community relationships. Finally, the Wraparound process should be "strengths based," including activities that purposefully help the child and family to recognize, utilize, and build talents, assets, and positive capacities.
The National Wraparound Initiative (NWI) was initiated in 2004 in order to better specify what the Wraparound model is and what high-quality Wraparound implementation consists of. The NWI's Resource Guide to Wraparound includes an introductory chapter that describes the roots and history of Wraparound and the purpose of the NWI. There is also a chapter in Section 2 that presents the principles of Wraparound in detail.
What takes place during the Wraparound process?
Wraparound is commonly described as taking place across four phases of effort: Engagement and team preparation, Initial plan development, Implementation, and Transition. During the Wraparound process, a team of people who are relevant to the life of the child or youth (e.g., family members, members of the family's social support network, service providers, and agency representatives) collaboratively develop an individualized plan of care, implement this plan, monitor the efficacy of the plan, and work towards success over time. A hallmark of the Wraparound process is that it is driven by the perspectives of the family and the child or youth. The plan should reflect their goals and their ideas about what sorts of service and support strategies are most likely to be helpful to them in reaching their goals. The Wraparound plan typically includes formal services, including research-based interventions as appropriate to build skills and meet youth and family needs, together with community services and interpersonal support and assistance provided by friends, kin, and other people drawn from the family's social networks. After the initial plan is developed, the team continues to meet often enough to monitor progress, which it does by measuring the plan's components against the indicators of success selected by the team. Plan components, interventions and strategies are revised when the team determines that they are not working, i.e., when the relevant indicators of success are not being achieved.
The NWI's Resource Guide to Wraparound has a document dedicated to describing the phases and activities of Wraparound. There is also a User's Guide to Wraparound that presents a description of the process in simple terms for families or system partners.
What are the implementation requirements for Wraparound?
Providing comprehensive care through the Wraparound process requires a high degree of collaboration and coordination among the child- and family-serving agencies and organizations in a community. These agencies and organizations need to work together to provide access to flexible resources and a well-developed array of services and supports in the community. In addition other community- or system-level supports are necessary for Wraparound to be successfully implemented and sustained. Research on Wraparound implementation has defined these essential community and system supports for Wraparound, and grouped them into six themes:
Community partnership: Representatives of key stakeholder groups, including families, young people, agencies, providers, and community representatives have joined together in a collaborative effort to plan, implement and oversee Wraparound as a community process.
Collaborative action: Stakeholders involved in the Wraparound effort work together to take steps to translate the Wraparound philosophy into concrete policies, practices and achievements that work across systems.
Fiscal policies and sustainability: The community has developed fiscal strategies to support and sustain Wraparound and to better meet the needs of children and youth participating in Wraparound.
Access to needed supports and services: The community has developed mechanisms for ensuring access to the Wraparound process as well as to the services and supports that Wraparound teams need to fully implement their plans, including evidence-based interventions.
Human resource development and support: The system supports Wraparound staff and partner agency staff to fully implement the Wraparound model and to provide relevant and transparent information to families and their extended networks about effective participation in Wraparound.
Accountability. The community implements mechanisms to monitor Wraparound fidelity, service quality, and outcomes, and to oversee the quality and development of the overall Wraparound effort.
The Resource Guide to Wraparound includes an entire section focusing on system- or community-level supports for Wraparound. Chapters in this section provide detail on areas from finance to information systems to accountability systems.
What specialized staff roles are needed for the Wraparound process with families?
Wraparound is intended to be a way of supporting individuals with a range of complex needs in any community. In addition, Wraparound is individualized to meet the needs of each youth and family who participates. Thus, across Wraparound programs, people in a variety of different roles – both professional and non-professional – play important roles in carrying out the Wraparound process with families and their children. Most typically, implementing a Wraparound project requires a cadre of individuals who are trained and supported to effectively lead the process. These individuals are most commonly Wraparound facilitators (or care coordinators), family support partners, and youth support partners. In addition, other types of professionals may play important roles in carrying out the Wraparound process in a community. These professionals include clinicians trained on research-based practices to address psychosocial needs, in-home behavioral support specialists, resource coordinators, and others.
The Resource Guide to Wraparound includes an entire section entitled Wraparound Practice that is dedicated to the most common staff roles in Wraparound implementation.
In addition to system-level supports, the Wraparound process requires that people in key Wraparound roles: facilitators, family support partners, etc.—have the right skills and the right working conditions to do their jobs. This means that the lead agency or agencies responsible for providing Wraparound to families must also provide organizational supports for Wraparound, including maintaining right-sized workloads (typically 6 – 15 youth/families per coordinator dependent upon paperwork expectations and other duties); empowering teams to make timely decisions regarding funding needed for individualized strategies to meet families' unique needs; and ensuring that primary staff receive comprehensive training, support and skill development.
Many of the biggest challenges faced by organizations providing Wraparound have to do with human resource issues: having the right people, with the right skills, available with sufficient time to complete a high quality Wraparound process with each child and family. Several of the key types of issues that organizations face include the following:
Role definition. Wraparound initiatives often are implemented using a wide range of staff roles (e.g., facilitators, family partners, clinicians, youth partners, paraprofessional support workers, supervisors, coaches, and others). Expectations for each role must be clearly defined before professional development strategies for each can be implemented.
Training and Skill Development. Wraparound is a complex process involving many different skill sets. People with key roles for carrying out the Wraparound process therefore require substantial training, as well as ongoing coaching and supervision, to ensure that they have the knowledge and skills they need. Most Wraparound projects, at least in their early stages of development, rely to some extent on outside people for training and for consultation on how to set up ongoing procedures for staff development and quality assurance. Finding a consultant or trainer has not always been easy, however, since Wraparound is not a proprietary model. To address this issue, the NWI launched the National Wraparound Implementation Center, which provides training, coaching, and a method that facilitates development of local expertise and sustainability. Regardless of what resource is used for Wraparound training and staff skill development, the NWI urges sites and states to follow the guidance described in its comprehensive Guidelines for Training, Coaching and Supervision for Wraparound Facilitators, summarized in the figure below below.
A comprehensive approach to training and skill development has several important components, all of which must be in place to ensure that people have the knowledge and skills they need.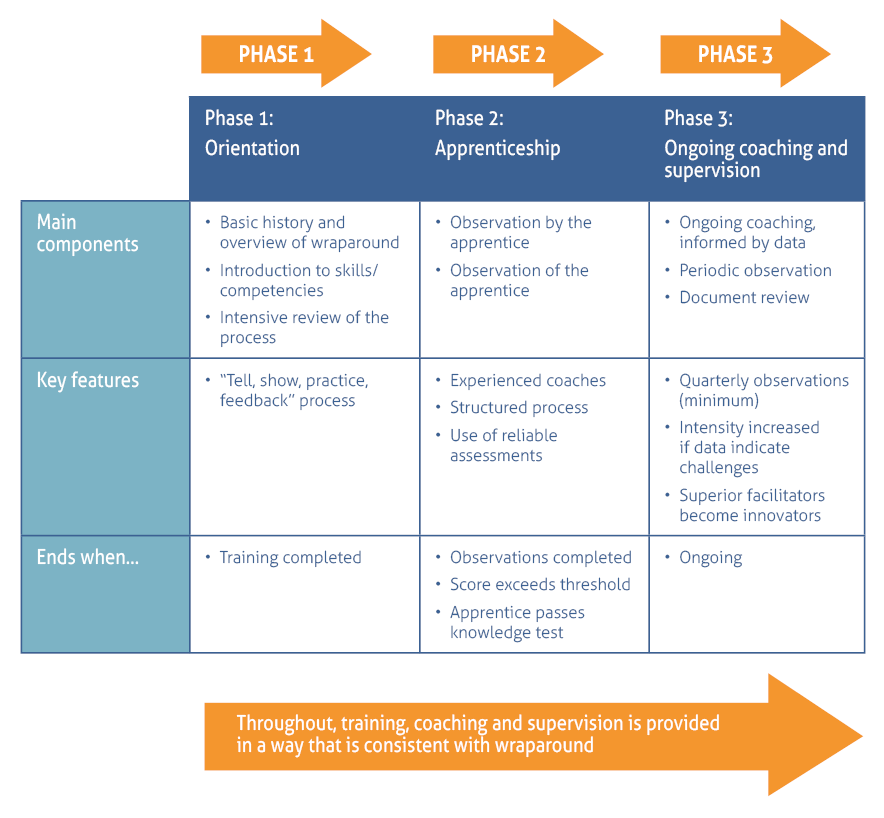 Is Wraparound evidence-based? What is the research?
The Wraparound process has been implemented widely across the United States and internationally for several reasons, including its documented success in promoting shifts from residential treatment and inpatient options to community-based care (and associated cost savings); its alignment with the value base for systems of care; and its resonance with families and family advocates. Wraparound has been included in Surgeon General's reports on both Children's Mental Health and Youth Violence, mandated for use in several federal grant programs, and presented by leading researchers as a mechanism for improving the uptake of evidence-based practices.
Continued expansion of the Wraparound research base has provided additional support for continued investment in Wraparound. To date, results of 10-12 (depending on criteria used) controlled (experimental and quasi-experimental) studies have been published in the peer-reviewed literature. A meta-analysis of seven of these studies was published showing consistent and significant outcomes in favor of the Wraparound group compared to control groups across a wide range of outcomes domains, including residential placement, mental health outcomes, school success, and juvenile justice recidivism.1 The overall effect size found in this meta-analysis was found to be between .33 – .40, about the same as was found in a recent meta-analysis of children's mental health evidence-based treatments. A recent update of all controlled research studies of Wraparound as of 2010 is available in the NWI's Resource Guide to Wraparound. (Please see this compilation from the Wraparound Evaluation and Research Team for a review of published Wraparound literature.)
Thus, though Wraparound has typically been described as a "promising" intervention, there has been consistent documentation of the model's ability to impact residential placement and other outcomes for youth with complex needs. As a result, Wraparound is now listed as "research-based" on several major inventories of child and family interventions and strategies, including that of the influential Washington State Institute for Public Policy. The research base for Wraparound continues to expand and, as a result, Wraparound is likely to be more consistently referenced as an "evidence-based" model in the years to come.
A cautionary note from the research is warranted, however, While most studies have found Wraparound to be associated with positive residential, functioning, and cost outcomes, two recent studies found Wraparound to result in positive outcomes for families, but outcomes that were no better than "services as usual" in their systems. These two studies shared one major thing in common – both found Wraparound fidelity to be far below recommended norms and implementation quality overall to be poor. Rather than be ignored as outliers, such research underscores the importance of attending to system and program factors, and maintaining a focus on fidelity of implementation, as is described by the materials on the NWI website and promoted by the training and TA of NWIC. (For more on this recent research, see the new chapter in the Resource Guide to Wraparound.)
The Resource Guide to Wraparound includes many additional articles about Wraparound research. It includes a section on Theory and Research that presents articles on the theory of change for Wraparound, the Wraparound evidence base, and the nature of Wraparound implementation in the United States. In addition, the NWI maintains an updated inventory of many dozens of relevant journal articles and book chapters on the Wraparound process.
The information on this page has been peer reviewed through the NWI.
---
1. Suter, J.C. & Bruns, E.J. (2009). Effects of Wraparound from a meta-analysis of controlled studies. Clinical Child and Family Psychology Review, 12, 336-351.