Sharice Jackson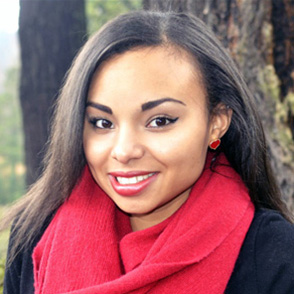 Sharice Jackson
Job Title: Training Specialist
Member Since: 2016
Sharice Jackson is a recent graduate from Master of Social Work program at Portland State University, where she focused on practice and leadership with communities and organizations. Three years ago, Sharice began as an AMP coach at the Pathways RTC working on the Achieve My Plan (AMP) project. As a coach, she worked with youth and young adults to increase their participation and involvement in their Wraparound team meetings. Some of her other experience includes working with youth experiencing homelessness and addiction, youth and young adults in foster care, and youth and young adults with serious mental health conditions. Sharice is also very committed to equity and social justice work.
Currently, Sharice works as a training specialist on the Achieve My Plan Project where she trains and supports care coordinators and peer support providers who work with youth and young adults. This year, she will be presenting on two topics at the upcoming National Wraparound Academy. These topics include: Youth Engagement in Wraparound and Supervision and Support for Youth Peer Providers.
Outside of work, Sharice enjoys spending time with her family, her fiancé Chris, and their two daughters, Cambria and Cimone. She also likes to try new restaurants, spend time outside in nature, and watch Netflix series.