Jenniffer Friskney and Tracy Musser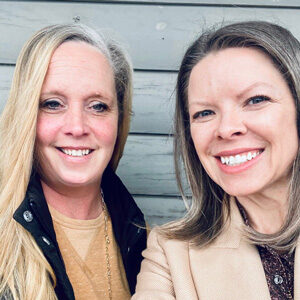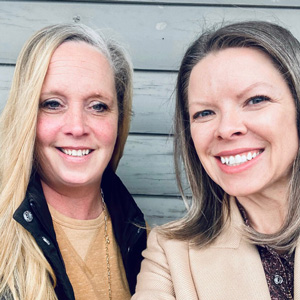 Jenniffer Friskney and Tracy Musser
Job Title: Jennifer: Independent Community Provider; Tracy: Wraparound Facilitator
Website: https://www.nec.org/services/nec-wraparound/
Member Since: 2023
In a first for the NWI Spotlight series, Jenniffer Friskney and Tracy Musser nominated each other, providing the ideal opportunity to highlight their work individually and as a team.
Tracy and Jenn first met more than six years ago. At that time, both were working in case management at the Northeastern Center, which provides behavioral health services in four mostly rural counties in northeast Indiana. Both Tracy and Jenn were attracted to strengths-based, family- and youth-driven practice, and eventually transitioned to new jobs connected to Wraparound. Tracy became a Wraparound facilitator, and Jenn began working as an independent community provider working primarily with Wraparound parents and caregivers as a family support trainer. In their own descriptions of one another – and through the many testimonials made on their behalf by colleagues, family members, and youth – it's clear that Tracy and Jenn are successful in making the Wraparound philosophy come alive for families and youth. This success is rooted both in their partnership and in their own individual work-related strengths.
Among Jenn's most notable assets in her Wraparound work are her natural warmth and her firm grasp of key aspects of the philosophy and practice. A colleague at the Northeastern Center describes it this way: "Jenn is one of those people that I would say 'just gets it.' Even though I was the supervisor, she trained me in a lot of ways. As a colleague, she was always a partner and I think that this is how she approaches families. She is a sincere partner with the families she serves by providing them with choices, empowering decisions, walking alongside them, recognizing the strengths of each individual, and being unwilling to accept that things cannot change. She challenges individuals, families, service providers, supervisors, and CCOs to create more opportunities within the communities that we serve and the places we live. Jennifer is a blessing to our community and embodies a spirit that makes us all better." Tracy sees these traits as well: "Jenn is able to see the best in people even under the most difficult circumstances and she is able to make people eventually see these things in themselves. She calls and lets people know that she is thinking of them outside of her appointment times. She remembers birthdays and makes holidays even more special for families. She picks up little gifts catered to the person's interests to let them know that she is thinking of them. She meets people where they are at and treats them like old friends."
While Tracy likewise brings warmth and commitment to her work in Wraparound, her most remarkable strength is the ability to maintain a compassionate and caring stance while also making sure that the team remains focused and accountable. A parent formerly involved in Wraparound described Tracy as a "wonderful, exquisite leader," who kept family and team morale positive through her perspective and leadership: "If we had tough stuff to talk about and go over, she helped move through the process. Even if our family was stuck in things, she helped with gathering good people for our team to help about things we needed, and is the kind of person to see the good in things." A former Wraparound mom said that Tracy helps each person "find something they may have hid away and brings it back to life. She makes a huge positive impact on many she is involved with." Other family members and youth that worked with Tracy noted that she could be fun and laid back while also being 100% on task.
Jenn and Tracy bring their strengths together to form a strong partnership in their work with families and Wraparound teams. They communicate consistently, follow up on strategies and tasks, and use their combined creativity to build confidence and a maintain a sense of forward momentum for everyone on their teams.