Jennifer Schurer Coldiron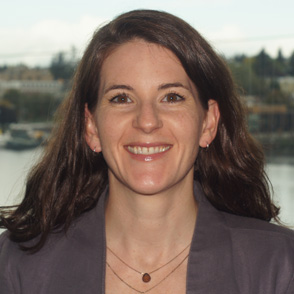 Jennifer Schurer Coldiron
Job Title: Research Scientist
Website: https://depts.washington.edu/wrapeval
Member Since: 2014
Jennifer Schurer Coldiron has been a Research Scientist with the Wraparound Evaluation and Research Team at the University of Washington in Seattle since early 2014. She leads numerous projects and initiatives related to improving data-driven Wraparound implementation and practice. Recently, Jennifer completed a randomized control trial of Wraparound for dually-involved youth, first authored a comprehensive review of the literature on Wraparound, co-authored a guide for Care Coordinators to being more outcomes-based, and developed the Wraparound Structure Assessment and Review (WrapSTAR) process, which has morphed into the Wraparound Implementation and Practice Quality Standards and forthcoming self-assessment system. She is currently leading an effort to compile and analyze Child and Adolescent Needs and Strengths (CANS) assessment data from large Wraparound initiatives to provide CANS-implementing sites guidance around typical baseline and change scores and the impact of site-level differences on ratings. Jennifer enjoys the fact that her position affords her the opportunity to work directly with Wraparound initiatives and their staff by providing accountability-focused technical assistance, leading evaluations, delivering trainings and webinars, and presenting at conferences. As in the past, Jennifer will be an instructor in the Strengthening Evaluation, Research, and Outcomes Management track of the 2017 National Wraparound Implementation Academy.
Jennifer holds an MSW from Columbia University and a PhD in Social Work from Washington University in Saint Louis. Her early career focused on foster care prevention and family support programs before she pivoted into implementation science and organizational development, harkening back to her early days as a business strategy consultant. She feels very fortunate to have found a position where her passions for providing community-based support for vulnerable children and their families and strengthening human service organizations have come together in an area with such rich history and ongoing opportunity like the Systems of Care and Wraparound movements.
A California native, Jennifer is happy to finally be back on the West Coast after almost 15 years of bouncing between Boston, New York City, and Saint Louis. She's enjoying being nearer to family, exploring the Puget Sound region, and still being stunned by the sight of Mount Rainier on a clear day. Outside of work, Jennifer is very busy running after her two young daughters and trying her hand at cross stitching and gardening.