Caitlin Baird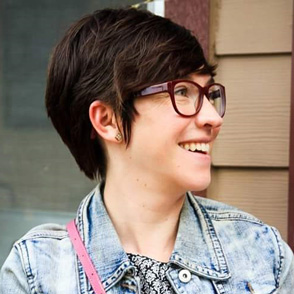 Caitlin Baird
Job Title: Peer Services Manager
Website: http://www.youthmoveoregon.org
Member Since: 2016
Caitlin grew up with a loving and supportive family but experienced some struggles with her mental health in her transition age years. At 21, with the help of her support network she sought help for her depression and anxiety. She started therapy; determined to receive help without medication. Over the years she started making healthier choices and developed ways to manage her anxiety. She recognizes that there is no "cure" for her anxiety and depression but feels she is a living example that mental health experiences do not have to dictate who you become.
In her early twenties, Caitlin began working for nonprofits as a conscious step towards personal healing. She believes that it is important to give back to her community and feels happiest when serving other people. Caitlin started working with youth in foster care and helped many young people find their long-lost loved ones through Family Finding. In addition to her work with Family Finding, Caitlin directed a Eugene-based mentor program that served transition-age foster youth.
Caitlin started working with Youth MOVE Oregon in July of 2014, wishing to expand her work with youth in various systems of care and provide peer support to young adults. She started working with young people participating in the Wraparound process as a Wraparound youth partner, and eventually became a consultant and trainer for Oregon's System of Care and Wraparound Initiative. Through this work she has advocated for youth participation at all levels of decision-making ‒ from leading their own treatment plans to being leaders at governance boards and councils.
In September 2016 Caitlin was awarded with the Gary M. Blau Professional of the Year Award from Youth MOVE National for her advocacy work within Oregon's System of Care.
In her free time Caitlin enjoys reading, yoga, art, writing, being outdoors, and cooking healthy meals. She finds that these activities not only bring her joy but also help her to remain centered.